---
---
---
---
Chrysalis is the growth stage between the caterpillar and the butterfly. While on the surface it may look like nothing is happening, the delicate process changes a caterpillar into a butterfly with wings and beautiful colors. This symbolizes that through dying to self, Christ can transform us into new beings. Jesus Christ can transform us into something beautiful. We must open ourselves to Jesus for this transformation to occur.

Chrysalis is the name chosen for this three-day experience because it symbolizes faith growth in the lives of high school and college aged young adults - the spiritual growth that is necessary between adolescence and adulthood. It is a crucial time of maturing faith for discipleship.

Chrysalis has its roots deeply planted in its parent movement, the Walk to Emmaus. Chrysalis is a three-day spiritual renewal retreat that provides participants an opportunity to learn more about the faith, to experience Christian love and support, and a chance to make new commitments in their faith journey. The content of the three days focuses on God's grace, how one experiences Christ as friend in the body of Christ, and how one is called into discipleship, giving love to a needful world.


---
---
You will enjoy three days of singing, learning, laughing, worshiping, reflecting, praying and participating in small groups. Discussions center around fifteen talks given by youth and adult laity, as well as clergy. These talks present the theme of God's grace, how that grace comes alive in the Christian community, and how it is expressed in the world. You'll also discover how grace is real in your life, how you live a life of grace, and how you bring that grace to others.

You will have the opportunity to participate in the celebration of Holy Communion and to understand more fully the body of Christ. You will experience God's grace through the prayers and acts of anonymous service offered by the Chrysalis community. You will leave with an experience of Christian love in action that will equip you for new levels of grace-filled service and leadership.

---
Chrysalis is for the development of Christian youth who:

• wish to strengthen their friendship with Christ;
• may have unanswered questions about prayer, study, and sharing their faith;
• understand that being a friend of Christ, or Christian, involves responsibility;
• are open to dedicating their everyday life to God in an ongoing manner.

Chrysalis is open to youth from the ages of 14-18 of any denomination.

---
You are invited to have a closer walk with Christ for the rest of your life; this is called the Fourth Day. Those who attend a Chrysalis Weekend are encouraged to expand their own spiritual lives through worship, study and active participation in their local church and become more active disciples of Christ in service to the world. To nurture this process of discipleship, the Chrysalis movement offers specific opportunities:

• First, groups of four to six people meet weekly to reflect on their spiritual journey and encourage one another in accountable discipleship. These are commonly called share groups (or accountability groups). This will be discussed during one of the final talks during the weekend. Check with the weekend lay and spiritual directors for help with finding or forming a share/accountability group.

• Second, there are monthly community gatherings where Chrysalis and Emmaus participants meet for fellowship, worship and instruction. Information about the monthly gatherings may be found on the Community Home Page.

• Third, community members are regularly informed of the support needs of upcoming Chrysalis and Emmaus weekends, Face to Face Encounters, and other opportunities for servant leadership. Once you have attended a Chrysalis Flight you are invited to help serve at those events.

---
The Heart of Ohio Chrysalis Community currently holds two flights per year: A girls flight is traditionally held over the Martin Luther King Day holiday weekend; a boys flight is traditionally held over the Presidents Day holiday weekend. The flights begin on a Saturday morning and run through Monday afternoon. For further information about upcoming Flights, please visit our Community Calendar page.

---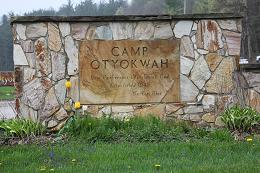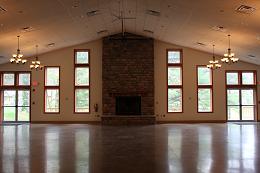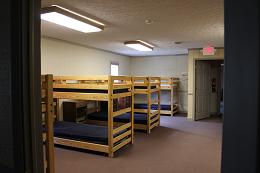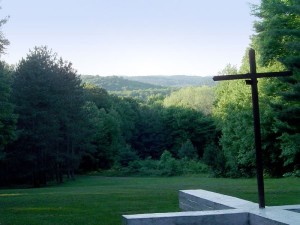 The Heart of Ohio Emmaus and Chrysalis community holds its Walks to Emmaus and Chrysalis Flights at Otyokwah Camp and Retreat Center. Camp Otyokwah is a 260 acre Christian camp located at 3380 Tugend Road near Butler, Ohio, a few miles west of Mohican State Park. The facility is owned and operated by the Great Lakes Conference of the Churches of God.

Meals are served in the spacious Hopewell Hall dining hall featuring seating for 260 people, a cathedral ceiling, a beautiful stone-faced fireplace, and state of the art sound and video systems. Just outside the dining hall and down a short hallway is the conference room with seating for 90 people where the team and the pilgrims listen to and discuss the talks presented.

Delaware Lodge is a single story building with a full length front deck facing Hopewell Hall and the scenic, lake-covered valley. This heated facility has six separate dorm style rooms with four full restroom facilities and a total capacity of 80. The Commons meeting room, located in the middle of Delaware Lodge, seats 50 people and is used for sponsors' hour and various chapel services throughout the weekend.

---
We invite you to join in an exciting three days spent in meeting Jesus Christ as your friend who comes to you in God's love as expressed through other Christians. Come experience the love of Jesus Christ in a deeply enriching weekend! Click here to download a Chrysalis Application.

Our community covers a large geographical section of the state of Ohio. The approximate center is Mansfield in Richland County. If you are interested in attending a Chrysalis Flight but do not live in the Heart of Ohio area, visit the International Chrysalis Home Page. Click on the "Find Emmaus" link on the page to locate an Emmaus/Chrysalis community closer to your home.

---
---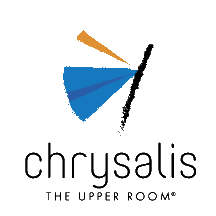 Visit the Upper Room's Chrysalis Site by
clicking here or on the logo.